I always scout out photography blogs.
I am so envious of how pretty they are able to make their pictures through editing.
Well...I have been doing some tinkering while at work
(don't worry my patients are well taken care of) on
and I have finally figured out how to make black and white(or any other toned photo) with small items in color. I have two examples below.
.
.
This first picture of Ava is the original
You can see the difference in this picture.
You'll notice only her eyes, shirt, and hair bow are in color.
This is an original pic of the boys this Christmas.
Here is the edited version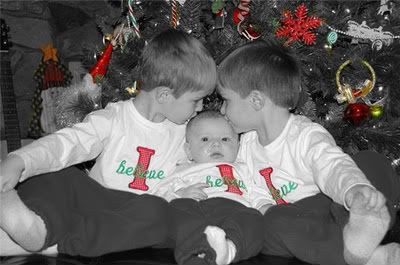 Notice their shirts and some Christmas ornaments are the only things showing.
The possibilities are endless! A lot of Ava's pictures are cuter because I guess maybe this is kinda a girly thing, but if I had just the right pic, it will work good for the boys too. If you are interested in learning how to do it, post a comment. I can give a blog tutorial if anyone else thinks this is as neat as i do! Professional looking effects done for free!! Yay me(and photobucket)